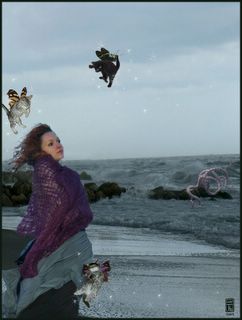 The Girl Who Cried Squid

My talented daughter
put together this inspiring portrait of Krin with her kitten fairies blissfully unaware of the giant squid lurking in the background. This is going to be right beside my computer all through Nano! I'll also play with it for a signature banner.
Every now and again I have to brag about Hanna. Okay, fairly regularly! Check out her
website
for more samples of her artwork. Maybe one day she'll be YOUR cover artist. I hope she'll be mine.